September 2021 - Double Star of the Month
STF 2883 (22 10 38.8 +70 07 57.2) is located in the pentangle of Cepheus, about 3 degrees following beta Cephei, which is itself a fine pair (see this column for Sept 2012).
This pair was somehow missed in my early survey carried out in the late 1960s, probably because of its high declination. It also eluded the elder Herschel and only made it into his final double star catalogue of 1822 as H N 121. It was subsequently observed by South and John Herschel and they noted the stars were white and blue with the colours very decided. I measured it with the Cambridge 8-inch in 2003 (253, 14".4) and at the time I noted another fainter and wider pair about 15 arc minutes south-west (7.9, 8.1, 207 degrees, 66").
STF 2883 is almost certainly a long period binary. The distances as they appear in Gaia EDR3 are almost identical and the proper motions are similarly equal. The stars lie 106.29 light-years away. This is a nice pair for the small telescope with the stars shining at magnitudes 5.6 and 8.6.
HIP 110109 (22 18 15.6 -53 37 38) is a Sun-like star of magnitude 5.4 located in the south-western corner of Grus and which can be found six degrees due north of alpha Tucanae.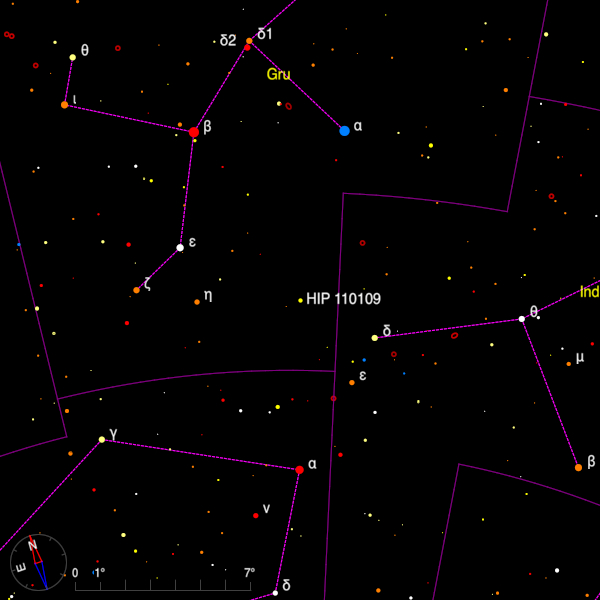 During the period in the late nineteenth century when observers from Harvard were site-testing at Arequipa in Peru, they discovered a number of new double stars and this star appeared in that list (HDO) as number 298. When first observed the magnitude 9.7 companion was 2".5 distant in position angle 10 degrees but since then the stars have closed and the last measurement in 2015 found the companion at 10 degrees and 1".8.
Hipparcos found both stars to have the same distance (45 light-years) within the admittedly large errors on each parallax.
Bob Argyle - Double Star Section Director