January 2015 - Picture of the Month
Sh2-155 The Cave Nebula in Cepheus
Our images this month are courtesy of David Davies from Cambridge in the UK. They provide an interesting comparison of the difference aperture can make when imaging nebulae. Please click on either image for the high resolution version. For more images from David please visit his Flickr Photostream.
I've been collecting data for an image of the Cave Nebula over four nights during December (5, 7, 13 15) and it has been a chapter of carelessness and frustration. I ended up binning hours of data after discovering it was slightly out of focus or was captured with the wrong filters. In the end I did some work on what I could rescue and the attached image is the result.
I set off trying to image the Cave in narrow-band but soon discovered that although the main cup-shaped nebula is rated as reasonably bright (integrated magnitude 7) it covers around 15 arc minutes of sky and is quite faint. The surrounding nebulosity comprising emission, reflection and dark nebulae is much fainter. Hydrogen-alpha emission can be acquired fairly readily but oxygen III and sulphur II emissions are very faint indeed. I decided to cut my losses and abandoned my acquisition of oxygen and sulphur, changed the filter wheel to RGB and acquired around an hour of each.
I was interested to see the Cave in its context and chose to image it with my ED120 refractor plus a reducer/flattener to give a field of view of 81 x 61 arc minutes. The attached image is a crop to approximately 60 x 60 arc minutes.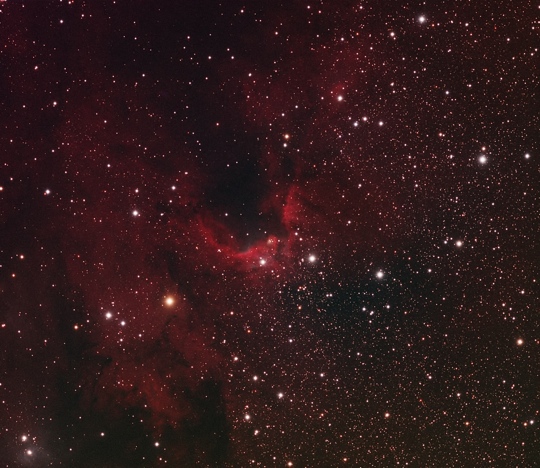 The image is Hydrogen-alpha, RGB; four hours of hydrogen-alpha in 20 minute subs; 132 minutes of RGB in 8-minute subs; all binned 1 x 1. Processing was in Pixinsight with a final touch-up in Photoshop.
Telescope is Skywatcher Equinox ED120 with a Skywatcher X0.85 reducer/flattener.
Camera is a QSI 583 wsg with Astrodon LRGB and 3 nm narrow band filters and Lodestar guide camera.
Mount is a Skywatcher NEQ6 controlled via EQMOD.
Image capture was with Nebulosity and Scopefocus for automatic focusing.
I was curious to see what my 10-inch Newtonian would make of it so here is the Cave again but this time captured with a 10-inch Newtonian. The faster optics and longer exposures have yielded a deeper image.
A hydrogen-alpha RGB image captured on the nights of 19 and 24 December 2014 from Cambridge, UK. Two hours each of RGB in 10-minute subs plus one hour of hydrogen-alpha in 20-minute subs.
Telescope is a 10-inch Newtonian plus Televue Paracorr at F/4.5.
Camera is a QSI 583 wsg with a Lodestar camera as off-axis guider.
Mount is a Skywatcher NEQ6.
Image processing with PixInsight and Photoshop.