November 2018 - Picture of the Month
NGC 1365 in Fornax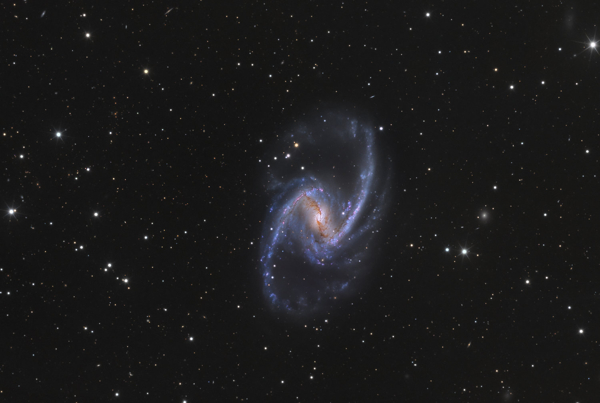 I've surprised myself by picking another galaxy for Picture of the Month.
NGC 1365 is a popular target it seems, though for those of us in Northern Europe it barely scrapes the horizon as a prominent member of the Fornax cluster, and about 55 million light-years away. It's not hard to see the reasons for this popularity: it's a glorious and large barred-spiral galaxy, its arms dotted with starforming regions and streaked by dust. As you'd expect with all that star-formation going on, NGC 1365 has hosted a number of supernovae, I believe four, with the last in 2012.
At the heart of the bright core in Martin's image lies a rapidly-rotating supermassive blackhole of 5–10 million solar masses. NGC 1365 is classed as a Seyfert galaxy, with its core being studied in a range of wavelengths by professional astronomers. The suspicion is that bar helps channel matter in towards the blackhole.
So there's plenty to keep those with cameras busy, but what about those of a visual persuasion? The Night Sky Observer's Guide Volume 1 suggests that a bright core with a faint halo is visible in a 20-cm telescope, but to get the best of this galaxy needs a much bigger scope, the bigger the better: it gets an Impressive! in a 50-cm instrument.
James Whinfrey - Website Administrator.